Hi All
We've made some changes and upgrades to our Custom Branding offerings, and wanted to point them out. There are four areas where Custom Branding applies and
Server Dashboard View:
The blue Watchman Monitoring favicon has been replaced with a version of our "Bubbles" icon, which shows a checkbox instead of a question mark. We are working at allowing this to be customized per-subscriber.
We've also streamlined the page titles, removing the Watchman Monitoring name, and adding yours, making printing from our Dashboard a little more appealing.
As mentioned, your custom logo does not show in the upper-left corner once logged in as an Admin or Employee. However, your custom image DOES show at the login screen, and to End-Users. The server image size was changed from 400x80 to 360x80 pixels. We have taken care of converting the size on your behalf. If you enable custom branding, but do not supply a server image, we'll simply display "Dashboard" on your login screen.

Installation Experience.
For some time we've been asked if the Installer could say something other than "Monitoring Client". With version 6.0 of the Mac Client, we've replaced those words inside Installer.app with your custom software title. We've also added the ability to display a custom Summary.rtf, in addition to the Introduction.rtf which has always been supported.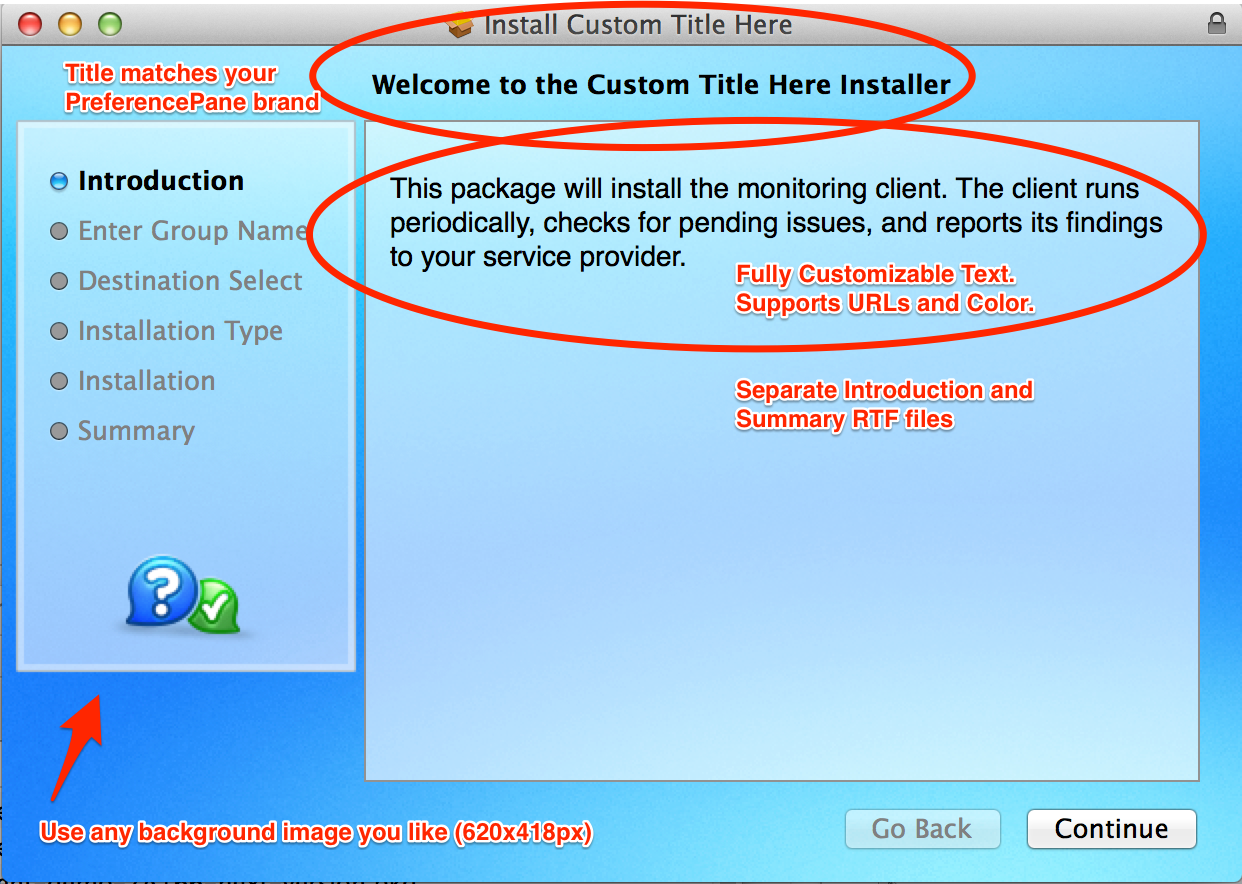 PreferencePane
The PreferencePane is unchanged, still supporting the display of your custom Software Title, website or email, even the "For support, contact" can be customized.

Contact Menu
The Contact Menu for the Mac has not changed. We still need 32px and 16px square icons, ideally in black and shades of grey, but images which have a solid border of color work as well.
The Contact Menu is coming to the Windows platform as a System Tray icon, and will use a 256px square version of the icon used in the PreferencePane. In it will support full color.
Branding FAQ
This information hasn't changed, but we are asked for confirmation of these facts:
How can I get these new features, will they cost me any more?
Once Custom Branding is enabled on your account, there is never any charge to re-submit your brand. Simply use the form at https://www.watchmanmonitoring.com/branding and upload the components you wish to add or change.
I might want to get branding later, should I wait to install after?
No, the custom branding options apply retro-actively via our Auto-Update process.
Do I have to reinstall to get the Contact Menu active?
No, the Contact Menu shipped in version 6 of the Mac agent, and will auto-activate when you enable this option in your Dashboard's settings area.
Why is the first menu item my company name?
Statically building the first item as you Company Name, triggering your End User Support option (as defined in your Settings -> Company ) allowed us to bring the menu to life sooner. We are considering ways to get around the technical limitations of this fact without over-complicating the process.
The current workaround is to create a more inviting option which will trigger an email or website of your choosing.