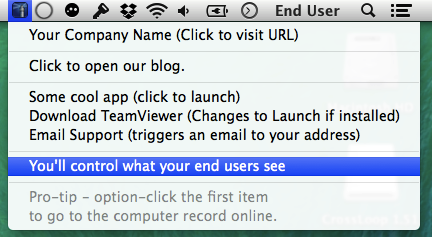 Features
Support for our Contact Menu
Responds to server-side actions on each check in
Support for TeamViewer 10
Support for Group-Specific installers.
Detects new malware types, Buca, Vidx, Spigot*
*Spigot is going to be a doozy, and your end-users are quite likely to thank you for getting rid of all the popups in their life!
Bug Fixes
Better support for locating the Casper computer ID
Changes
Additional files added for existing malware tests.
Known Issues
Malware Detection does not locate browser extensions in Firefox.
Carbon Copy Cloner version 4 support is pending
###About the Contact Menu
Hi all! it's here. We've released the Contact Menu for all subscribers.
https://community.watchmanmonitoring.com/c/resources/contact-menu
Full instructions to be posted shortly.