Hi all,
We've been talking about it, and it's just about here: a customizable menu which is designed to keep you in the forefront of your end-users' attention.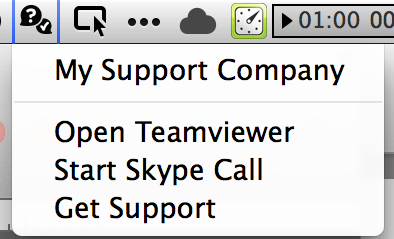 Here is what you need to do:
If you have signed up for Custom Branding, please submit an icon designed for the menu bar in both 32x32 and 16x16 pixel sizes.

If you have not signed up for Custom Branding, the menu will display the generic bubbles icon shown above.
##FAQs
Does the Contact Menu cost extra?

No. The Contact Menu is currently available as a standard feature for all subscribers.

The menu may be an additional charge for those who subscribe after 31 Dec 2014.

Is the menu mandatory?

No. The menu's visibity and contents are defined in the the server's interface.

The options in the menu can be customized at the computer level or the Client Group level.

The menu can be disabled at the computer level or the Client Group level.

The menu is enabled by default, but can be disabled for your Subscription.

What menu items are shown to the end user?

The first entry will be your Company Name, as defined in Settings -> Company.
Clicking the first item will open your preferred support method (your email or website).

Additional menu items are defined by Administrators of any given subscription.

What can the menu do?

The menu can be configured to trigger http and mailto URLs

The menu can be triggered to open applications via application URL (such as vnc://) or Application Identifier (such as com.teamviewer.TeamViewer)

If an Application's Identifier isn't present on the filesystem, the menu can trigger a URL to download the desired application.

How can I get small icons designed for me?

Watchman Monitoring is happy to offer suggestions and send proofs. However, we do not offer design services. We suggest you work with a local designer who knows you and your operation.

A sample Branding Pack is available for your convenience.
Additional configuration and usage tips will be posted in the coming week.
Please ask any questions below. They will be addressed and/or rolled in to this article.